Young Lad on Old Street is available in hard copy, ebook and on Kindle. Order yours online or through any good bookshop.
Buy Harry online
(just click the logo of your preferred retailer):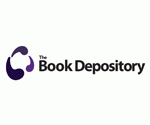 "Refreshingly not restricted to a tiny socio-economic group or locale, this tale of young Harry's adventures across London make a sequel worth looking forward to:

a Candide for our time

! "
(Amazon Review - 4 stars)
Harry is a non-achiever, at least so far as his high-performing parents are concerned, but their talents don't extend much to parenthood or creating an idyllic marriage.

Perhaps that's why Harry takes to sex for a living, turning a trick as a gay escort, the eponymous Young Lad on Old Street.
It's a murky business in the course of which Harry meets Frank, a dubious entrepreneur from London's seedier side. Frank draws Harry into a world where he's swindling his best friend's widow, whose interests the naive Arthur is seeking to defend, and where they attract the attention of psychotic gangsters.
Everyone's after a buck and Frank's after Harry too, but Harry is star-struck by the unfortunate Arthur. All this while everything's cratering at home.
Will Harry come out unscathed?
Buy your copy today
online or through any good bookshop
See Harry for yourself at Gay's The Word
Don't forget to follow Harry on Twitter!